UCCS at a Glance
UCCS is home to more than 12,000 driven students, more than 800 experienced faculty members, and more than 800 devoted staff members. On our awe-inspiring campus, we focus on providing an academically excellent environment at a value to students across the United States, and more than 80 nations.
The experience our students gain at UCCS provides an incredible service to our community of Colorado Springs and the greater southern Colorado region as a whole, with UCCS contributing about $600 million each year in economic impact in El Paso County alone.
To finance their educations, UCCS students borrow an average of $16,854, which is one-third less than the national average.

About one-third of UCCS undergrads come from families considered low-income.

About half of all UCCS freshmen earn degrees in six years.

UCCS students come from all 50 states and 82 different nations.

Our graduates repay their federal student loans. Their default rate is consistently less than the national average.

Our graduates are committed to Colorado, with more than 65 percent living in the state post-graduation.
DEDICATED TO MILITARY-AFFILIATED STUDENTS
20 percent of UCCS students are military affiliated.
We've built a robust network of support to ensure our military-affiliated students receive top-tier transition care, as well as advice on utilizing their earned benefits. UCCS has been ranked a top "Military Friendly" Institution, Military Times "Best College," as well as a "Top College & University" by Military Advanced Education and Transition.
34% of UCCS students identify as diverse
UCCS is Home
All are welcome at UCCS. Our leadership has repeatedly expressed support for international students, undocumented students and more.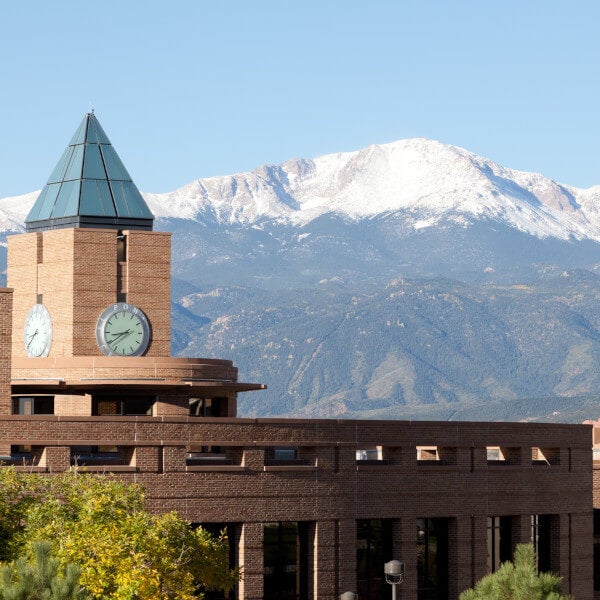 2,400+ Degrees Awarded Annually
UCCS is powering the next generation of thinkers, innovators and leaders. Our university confers more than 2,400 degrees each year to the next generation.
15:1
Student Faculty Ratio
12,400+ Students
A Growing University
While UCCS is a growing university, we're committed to small class sizes, boasting a 15 to 1 student to faculty ratio. We're also committed to maintaining our low tuition, keeping your education affordable.
WHAT'S HAPPENING ON CAMPUS