Admitted Student Next Steps
Admitted Student Next Steps
Helpful things to have done before attending New Student Orientation
Admitted Student Next Steps
Congratulations on being admitted to UCCS. You're on a path to success, and we're happy to be part of your bright future. The next steps you take, such as orientation, are a passageway to your first days on campus, selecting your housing, your classes and so much more.
Attend an Admitted Student Event
As a special welcome, our Admissions team invites you and two guests to join us for a complimentary meal to get to know our Admissions Staff and other incoming students.
---
Register for Orientation
New students are required to attend New Student Orientation before their first semester. During orientation, new students meet with their academic advisors and enroll in classes for the fall semester. The earlier date you attend, the better.
Registration forms for the Spring semester are available on October 1.
Registration forms for Summer or Fall semester will be available on March 1.
Students that are out of state have the option of attending orientation on-campus, out-of-state in California, Texas, Arizona, Hawaii, Illinois, or Minnesota, or completing an online orientation.
---
Claim Your UCCS Student Account
After you get accepted, it will take the IT department 1-2 business days to create your new student account. This account is necessary for several important activities such as applying for scholarships, checking your holds and to-do list, and registering for classes.
To create your account, you need to have your Student ID number, which is included in your acceptance letter. If you don't know your number, contact Records at (719) 255-3361 to get it.
Then, click "Claim Your Account" below to start the account creation process. Follow the instructions to retrieve your UCCS username and set your password.
If you encounter any issues, contact the IT Helpdesk at (719) 255-4357.
---
Apply for Financial Aid
The FAFSA is available at fafsa.ed.gov. The FAFSA application determines if you will qualify for need-based scholarships, grants, work-student jobs, and student loans.
The UCCS Code is 004509.
If you have submitted the FAFSA, please log in to your MyUCCS portal and view your My Action Items and To-Do list to ensure our Office of Financial Aid does not need additional information.
Please contact our Office of Financial Aid at finaidse@uccs.edu or 719-255-3460 if you have any questions.
Complete your FAFSA between October 1 - March 1
---
Apply for UCCS Scholarships
The scholarship application is located in the myUCCS portal. From the UCCS home page select the Current Students tab. Under the quick links, you can select the myUCCS Portal. Once you are in your portal navigate to the student center and click on the scholarship application link under the Finances heading.
You will then be asked to answer a series of questions before entering the scholarship application. Scholarship applications will ask for a variety of materials ranging from resumes to essays. The winter break is a great time to work on scholarship applications.
Please contact our scholarships office at scholarships@uccs.edu or (719) 255-3390 if you have any questions.
Complete your scholarship application between December 1 - March 1
---
College Opportunity Fund for Colorado Residents
The College Opportunity Fund (COF) allows Colorado Residents a will allow for a reduction in their tuition when they enroll in classes.
When you enroll in your classes at orientation, you will authorize your COF stipend to be paid to UCCS.
You have the option of authorizing COF each semester when you enroll in classes, or you may choose the Lifetime Authorization (you only authorize once, that authorization stays in effect until you change it).
If you do not apply for and authorize COF, you will pay full tuition.
For questions about authorizing COF, please contact the Bursar Office at (719) 255-3391.
For questions about COF-eligible courses and lifetime COF hours, please contact the Registrar's Office at (719) 255-3361.
---
On-campus Housing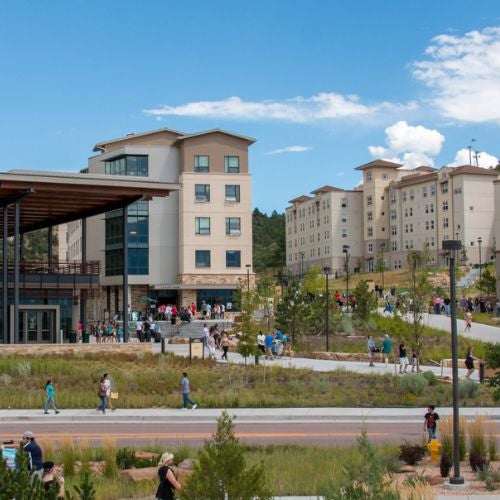 New freshmen under the age of 20 are required to live in UCCS' state-of-the-art residence halls located in our scenic Summit Village and Village at Alpine Valley locations. Colorado residents of El Paso county may qualify for an exemption to this requirement.
All freshmen, however, are strongly encouraged to live on campus to experience our exceptional residence life accommodations to enhance their overall college experience. Either a housing application or an exemption form must be submitted.
Applying for Housing
Students are required to submit a $600 advanced payment with their application which includes a $100 housing application fee, a $300 housing prepayment which will be deducted from their Fall tuition bill, and a $200 security deposit which is returned to the student once they move off campus if there is no damage to the room.
If you can demonstrate financial need, for example, if you are Pell Grant eligible according to the FAFSA, you can email finaidse@uccs.edu to determine if you qualify for a pre-payment waiver request.
Please contact our housing office at housing@uccs.edu or 719-255-4042 if you have any questions.
Complete your scholarship application between February 1 - April 1
Housing Assignments
The first round of housing assignments will be emailed to students that submitted a complete housing application by March 1. The second round of housing assignments will be emailed in June.
Students that have submitted a housing application and paid the $600 application fee/deposit/pre-payment have until May 31 to tell housing that they will not be living on-campus and still receive a $500 refund.
---
Review Your Financial Aid Award Letter
Students that have submitted a completed FAFSA receive their Financial Aid award letters in the mail and their UCCS Student Portal. 
Once you log in to your portal, click on the Financial Aid tab and select the Accept/Decline Awards tab to view your financial aid package. If you submitted a completed FAFSA after March 1, you should receive your award letter about two weeks after your submission date.
Letters typically arrive between late February and March.
---
Understand or Take Placement Tests before Orientation
Only certain majors require placement in math courses. UCCS uses a student's ACT and/or SAT math subtest scores for placement into the following math courses. To view math requirements for your major, please refer to the placement test website. If you have any questions regarding alternative placement options, please contact MPT@uccs.edu.
Math Placement Scores (Effective Fall 2019)

Course

ACT Score

SAT Score

New

SAT Score Old

Accuplacer Score

Math 090

No required score

Math 099

19+

520+

490+

265+ on Next Gen Quant. Alg. Stats Test

Math 1040

College Algebra

22+

570+

540+

245 on Next Gen Advanced Algebra and Functions Test

Math 1050

Elementary Functions for Calculus

25+

610+

590+

280 on Next Gen Advanced Algebra and Functions Test

Math 1120

Calculus for Business and Economics

25+

610+

590+

280 on Next Gen Advanced Algebra and Functions Test

Math 1330

Calculus for the Life Sciences

27+

640+

620+

Passing score on "local test"

Math 1350

Calculus 1

27+

640+

620+

Passing score on "local test"
---
Submit Your Immunization Records before Orientation
After you register for orientation, please upload a copy of your Measles, Mumps and Rubella (MMR) immunization records to the UCCS Wellness Center portal.
If you will be living in on-campus housing, you must upload a certified record showing proof of a Meningococcal ACWY vaccination to the UCCS Wellness Center portal. If you opt not to receive the vaccine, you must sign a waiver that can be found here.
---
Send in Your Final Transcripts & AP or IB Scores
If you are still taking classes in high school, send in your final transcript showing you have graduated. If you are currently taking, or have taken, classes at a different college, send in a final transcript showing all of the classes you have completed. If you took an AP and/or IB test, you will need to ensure that the scores for those tests are sent.
If you have questions, contact us at ugapp@uccs.edu. An official version of the pdf transcript can be emailed to ugapp@uccs.edu or mailed to:
UCCS Office of Admissions
1420 Austin Bluffs Parkway
Colorado Springs, CO 80918.