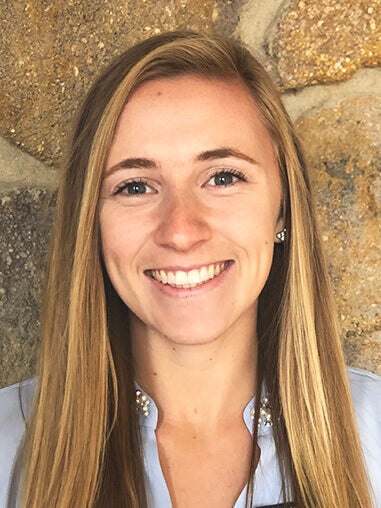 Admissions Counselor, Arapahoe and Douglas County
About Allie
Home town? Waukon, IA
Favorite ice cream flavor? Double fudge brownie
Hobbies? Hiking, playing volleyball, exploring new places, cheering on the Iowa Hawkeyes and Green Bay Packers, and spending time with friends and family.
College major(s)? Sport Management with a minor in Economics!
Quote about college? "An investment in knowledge pays the best interest." - Benjamin Franklin. My economics Professor used to quote that all the time.

Favorite thing about UCCS? It would be a crime to not say "the view" ... but also the incredible people- from the classrooms to the coffee shops, I have never been on campus with so many people who are genuinely invested in the well-being of the students.
Favorite Place in Colorado Springs? The top of Pulpit rock- it has the best view of the whole city!
If you could have lunch with anyone (past or present), who would it be? My three brothers. I probably wouldn't get to take home any leftovers, but at least I would have great company.
Fun fact about you? Growing up I had two pet snakes named Mandy and Randy.