Virtual Admissions & Enrollment
Virtual Admissions & Enrollment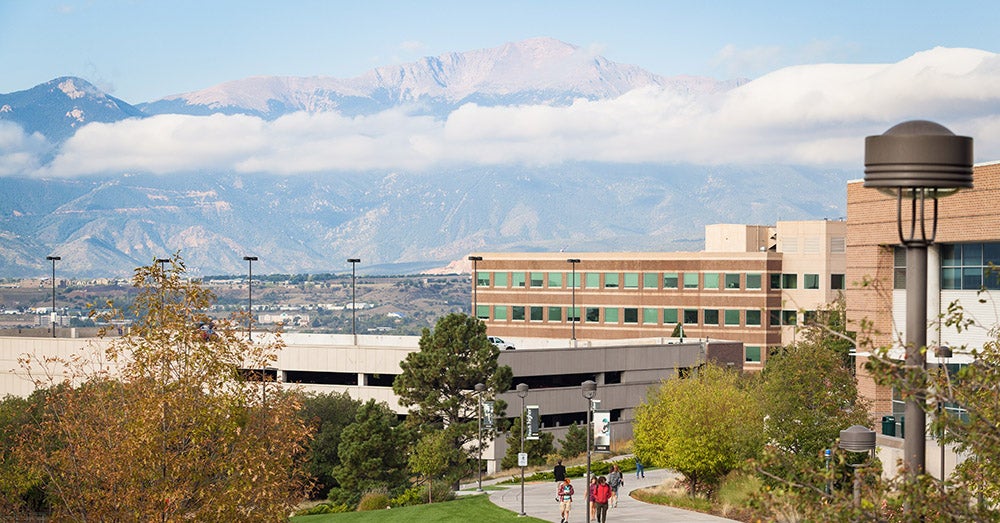 The Office of Admissions team and other UCCS offices are currently working remotely rather than from their physical locations on campus. Please know that all admission-related processes are fully functioning. We are communicating via email so don't hesitate to contact us at go@uccs.edu or (719) 255-3084 when you need us.
Connect with our Undergraduate Admissions Team at a Virtual Event
Clyde's On-Campus Welcome Plan for Fall 2020
Follow us on Instagram!  @uccsadmissions
When and how will I be informed of changes related to COVID-19?

Am I still required to attend Orientation?

Orientation is required for all new UCCS freshmen and transfer students. All summer orientations have moved to online delivery and registration is available by clicking below.

Will I be able to visit campus at all this summer prior to move-in?

Will high school and college pass/fail grades affect my admission?

Courses with a passing grade noted as a "P" will be accepted to UCCS as successful completion of the course.

Will UCCS accept Advanced Placement (AP) and International Baccalaureate (IB) scores from the online format?

UCCS will accept AP and IB scores from the online testing format and will not change how we traditionally award credit based on those scores.

Will classes be held online in the fall?

We anticipate on-campus and in-person classes will be available in the fall in adherence to public health guidelines, the CU System and its Board of Regents. The campus will be prepared to alter course delivery (either remotely or in-person) as necessary throughout the summer. 

Will the quality of education be impacted if moved to online? What about hands-on classes?

We are confident and well prepared for the delivery of exceptional online classes, if the need arises. UCCS will work with students without access to remote learning materials, and deans will be working with faculty and students on decisions regarding hands on-classes and internships.

Can I defer my admission?

If you would like to defer your UCCS admission to Spring 2021, Summer  2021, or Fall 2021, please e-mail your request to go@uccs.edu by August 24, 2020.
Prospective Student Finances FAQ's
Is there a cost difference if my classes move online?

For any classes that might move to an online delivery, tuition for those classes will not change. 

Will there be a tuition increase?

The CU Board of Regents will determine tuition and fees on May 19, 2020.  A tuition increase is unlikely as we are mindful of the economic impact of COVID-19 on families and students.

My financial situation has significantly changed, are there options for assistance?

We understand that COVID-19 has impacted lives in very different ways.  If your financial situation has changed significantly, please email the Office of Financial Aid at finaidse@uccs.edu for their assistance.
Prospective Student Housing FAQ's
How will housing costs be handled if classes are moved online for Fall 2020?

UCCS Residence Halls plan to be open and available for the Fall 2020 semester in accordance with public health recommendations. In response to the unique circumstances, the housing cancellation deadline for 2020-2021 contracts has been extended to June 30, 2020. Cancellations by June 30, 2020 will receive a refund (less the $100 non-refundable administrative fee). 

Will the process and date of move-in change?

The UCCS Residence Life and Housing team will be releasing new information about move-in and room assignments in the near future.

The UCCS Residence Life and Housing team will be releasing new information about move-in and room assignments in the near future.